Dental Bridges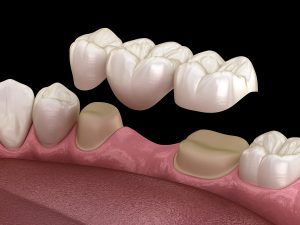 There are several ways to replace missing teeth. Many patients of Dr. Firas Nashef at New Orchard Dentistry in West Bloomfield Township opt for the reliability and natural look of dental bridges. This restoration rejuvenates a broken-down smile, filling in the hole left by a missing tooth or teeth for improved functionality and appearance.
Understanding Dental Bridges
Dental bridges are designed to fill the hole between two teeth left by a missing tooth or a few missing teeth. A dental bridge is a tooth replacement option that can usually be completed in two visits to your dentist. This restoration does not require oral surgery and is permanently secured in place for a long-lasting repair. A bridge is typically attached to the neighboring teeth and anchored in place with porcelain crowns.
Dental bridges are usually made of porcelain fused to ceramic or porcelain fused to metal. You and your West Bloomfield Township dentist will discuss all the options to determine which is right for you. Each restoration is designed to blend in with the rest of your smile in color, shape, and size.
Is a Dental Bridge Right for You?
People lose teeth for many reasons. The cause of a missing tooth must be taken into consideration when determining what the best dental restoration is for the circumstances.
If you have severe gum disease that has advanced to the point of causing tooth loss, you won't be replacing those missing teeth anytime soon. The infection must be addressed first and your entire mouth must be healthy before any sort of restorative dentistry can occur.
Any teeth that were knocked out in an accident, game, fall, or blow to the mouth have suffered trauma. The area will need to be examined before a restoration can take place to make sure there are no bits of tooth remaining and to ensure that the nearby teeth are strong and intact.
If a tooth is badly compromised by tooth decay and could not be saved with root canal therapy and a crown or a tooth-colored filling, it will need to be extracted. Once the area has healed, a repair like a dental bridge will be a viable option.
Dental bridges are an affordable and minimally invasive tooth replacement option that often works with many patients' budgets and goals for their oral health. Depending on the location of the missing tooth in your mouth, you may be a great candidate for this dental restoration.
Why You Must Replace Missing Teeth
You may be tempted to avoid replacing a missing tooth, especially if it is a molar that is not easy to see. This is unwise. Every tooth in your mouth has a job to do, including helping you bite, chew, speak, and maintain the shape of your face by stimulating and supporting the jawbone. If you don't fill in the hole in your smile caused by a missing tooth or teeth, you are setting yourself up for a host of oral health problems, including:
Shifting teeth
Tissue damage
Misalignment
Gaps
Compromised speech
Trouble eating
Above all, when you are missing a tooth, you will be self-conscious about your incomplete smile and your confidence can suffer because of it. Your teeth and smile are powerful parts of your appearance – you want them to be strong, healthy, and complete so you can feel like the best version of yourself.
Get Dental Bridges in West Bloomfield Township
Are you missing a tooth or several teeth in one area of your mouth? Schedule an appointment Dr. Nashef at New Orchard Dentistry in West Bloomfield Township to find out what dental restorations are right for you and if you're a good candidate for a dental bridge.